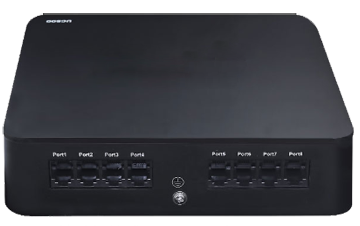 Comes with an asterisk-based system, offering not only full PBX functionality, but
also a new feature that enables new stability for your unified communication systems
with built-in Uninterruptible Power Supply (UPS).
Exert great importance in dustproof and mothproof with fanless exquisite aluminum enclosed design.
It can be operated in harsh industrial environments with ease.
Description
SMALL-MID IP PBX
FEATURES:
Support Fail2ban
Secure SIP calling (TLS encryption)
Support HD voice codecs such as OPUS, AMR-NB/WB, G.722, SILK, etc
Support Multiple VPN protocols including OpenVPN, L2TP, softetherVPN, etc
WebRTC(click2call)
Log optimization
Optimized management policy of recording file
Rapid heat dissipation
Optional VPN modes: server or client
Freely install your own Linux-based software
Supported codecs: ADPCM, G.711(A-Law & u-Law), G.722, G.723.1(pass through), G.726, G.728, G.729, GSM, iLBC(optional) among others.
Support from analog interfaces such as FXS/FXO(PSTN/POTS)
SIP and IAX2 support
Incoming and outgoing routes with support for dial pattern matching
Support for paging and intercom
Web-based operator panel
DISA(Direct Inward System Access)
Call detail record(CDR) report
Billing and consumption report
Distributed DialPlan with dundi
Call recording, Call parking, call queues, Voicemail, Conference
Echo canceller
Callback support
Flexible and configuration IVR
Support for PIN sets
Support for time conditions
VOIP provider configuration
Support for follow-me
Support for ring groups
Support for video-phones
Channel usage reports
Email
Mail server with multi-domain support
Based in postfix for high email volume
Remote SMTP Module
Web based email client
Support for quotas
Antispam support
Support for mail relay
Email list management
Fax
Fax to email application
Fax visor with downloaded PDFs
Can be integrated with Winprint Hylafax
Fax send through Web Interface
Fax to email customization
Access control for fax clients
Central
System resources monitor
Backup Restore Validation
Network configurator
Heartbeat module
Configurable server date, time and timezone
Backup/restore support via web
Server shutdown from the web
DHCP server for dynamic IP
Access control to the interface based on ACLs